The Sony event last night was as expected to to be the launch of the Playstation 4 and so begins the start of the next generation of consoles. Here is just a quick round up of what happened.
Hardware:
x86 CPU (as in PC CPU architecture).
"supercharged" PC GPU (rumoured to be from ATI 7XXX series).
8GB of unified RAM.
Has a hard drive.
Secondary chip will handle all downloads in the background.
Sony will not block used games.
No mention of any sort of disk drive but plenty of different downloading tech mentions. Probably just trying to push downloads but possibly hinting at no discs at all.
Visually:
Sony did not actually show off the PS4 unit itself at all. We did however get a view of the PS4 controller which has changed a bit from the classic Playstation controller style.
Dualshock 4 controller
There is the addition of a "Share" button just above the Dpad and the smooth surface in the centre is believed to be a track pad.
Playstation 4 UI and the Share menu:
The PS4's UI shows that Sony is continuing with the design ideas that it added to the PS3's Playstation store in the last major UI update.
Some form of PS4 home screen
The social side of the PS4
There was a lot of social buzzwords being thrown around during the event and it seems that the PS4 will be heavily "social" as in integrated with Facebook, Twitter etc.
Sony confirmed that usernames and stuff would still be there but there will be an underlying social aspect with people you are friends with on social networks
(something along that lines anyway).
The Share button: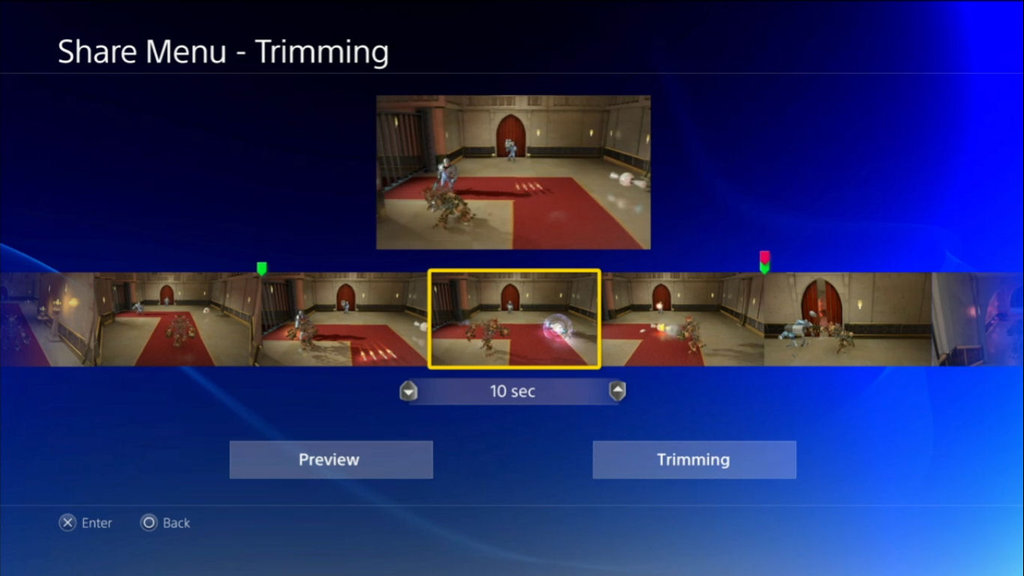 The PS4's share menu
The new DualShock 4 has a share button on it with allows you to take screenshots or short clips from
any
PS4 game and share them. I quite like this feature as it has always been too hard to share anything with friends from a console.
Sony also mentioned the ability to stream yourself playing a game on Ustream directly from the PS4 which will be a killer feature for budding Youtuber types.
Gaikai and backwards compatibility:
The Playstation 4 will not be backwards compatible with any PS3 games but Sony will use its ownership of game streaming service Gaikai to bring streamed PS3/PS2/PS1 games to a PS4 near you at some point.
There was also a hint that the Gaikai technology could be used to allow a friend take over and play your game from their own PS4 in the event of you getting stuck or just bored.
Games - KNACK:
Games - Drive Club:
Games - Infamous Second Son:
Games - Killzone Shadow Fall:
Games - Bungie's Destiny:
Games - Watch Dogs:
Games - The Witness (from the dev's of Braid):
Games - Diablo III: